Octopus World Dahab

,

Egypt
Dahab is a fantastic place to SCUBA Dive with so many different dive sites. You won't be crowded and you'll find our diving team and guides friendly and fun, making Dahab a great place for any first-time SCUBA Diver.

Octopus World Dahb is located in the heart of Dahab Bay, in the friendly atmosphere of the Lighthouse area, only steps away from amazing coral reefs. Our mission is to offer exceptional diving and training, combined with high quality equipment and excellent instructors. Customer feedback tells us we achieve this consistently, and we work hard to ensure we continue to do so. We have a passion for the aquatic realm and the natural world and we would love to share this passion with you!
20 diving packages and courses
DIVES
1 Dive
$38.66
COURSES
DIVEMASTER
$773.26
Affiliations:
Gallery (19 photos)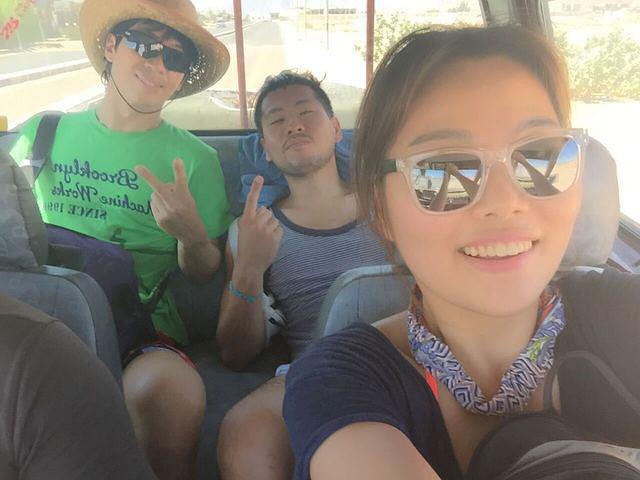 Services
Dives
1 Dive
$38.66
2 Dive
$64.44
4 Dive Pack
$105.45
6 Dive Pack
$158.17
10 Dive Pack
$257.75
14 Dive Pack
$345.63
20 Dive Pack
$486.22
Courses
DIVEMASTER
$773.26
Night Dive Speciality Course
$117.16
PADI Enriched Air Diver
$87.87
Peak Performance Buoyancy Diver
$117.16
RESCUE DIVER
$322.19
Emergency First Response
$128.88
PADI ADVANCED OPEN WATER DIVER DAHAB
$234.32
PADI OPEN WATER DIVER REFERRAL
$222.61
PADI OPEN WATER DIVER
$322.19
PADI SCUBA DIVER
$222.61
DISCOVER SCUBA DIVING 2 Dives
$70.30
DISCOVER SCUBA DIVING
$52.72
Bubble Maker
$41.01
19/11/13 at 14:34
Bells to Blue Hole dive never fails to amaze! All in all a fantastic day diving in Dahab!
19/11/13 at 10:00
Beautiful Canyon dive! This dive site never fails to deliver! Saw a lovely Red Sea Walkman and an Octopus!
18/11/13 at 10:00
Beautiful early morning dive with fantastic marine life and a lovely green sea turtle! Great people, great dive! Now time for sunbathing and relaxing!
| | | | | | |
| --- | --- | --- | --- | --- | --- |
| | | | | | Posted on 22/12/13 at 09:59 |
| | | | | | |
| --- | --- | --- | --- | --- | --- |
| Boat and equipment: | | | | | |
| Guiding and safety: | | | | | |
| Service: | | | | | |
No comment available
| | | | | | |
| --- | --- | --- | --- | --- | --- |
| | | | | | Posted on 08/10/13 at 15:02 |
| | | | | | |
| --- | --- | --- | --- | --- | --- |
| Boat and equipment: | | | | | |
| Guiding and safety: | | | | | |
| Service: | | | | | |
"Octopus World Dahab Diving Center is simply the best in Dahab!"
"Welcome home" was the greeting I received from Emad the owner of Octopus World Dahab Diving Center on my first day at the dive center.... and from that first moment I felt part of a large 'diving' family. I was quickly checked in by Sarah and received my equipment, which was all brand new! (A huge bonus when renting gear). The whole dive center is really safe and lockers with padlocks are provided... A quick tour of the place and a detailed check dive as it had been over 6 months since my last dive and we were ready to go... I told Emad I specifically wanted to see and photograph Seahorses so we simply stepped out of the dive center and entered the water, it was so close and their house reef was my favourite of the trip... Full of life, coral and Seahorses! Everything I asked to photograph was presented to me on one dive or the other, I swear they had a direct line to the marine life! (Except the elusive Frog Fish, well it gives me a reason to return). Emad realised early on that I preferred to stay shallower for the light and so ensured each dive plan was catered to my requirements... They really couldn't do enough for you, very flexible, delivering exceptional levels of customer service and extremely high levels of safety throughout my trip. I completed 22 dives in total which covered pretty much every dive site in Dahab and will definitely miss the friendly nature of the team, we had some great laughs both in and out of the water... and in between dives kicked back and chilled out in Yalla Bar a few steps in front of the dive center... Emad was a great help in the run up to the trip, answering my many questions and even arranging my transfers from the airport in Sharm to inviting me to the teams Bedouin dinner in the desert on my last night with the whole Octopus team, a very nice touch indeed... I looked through the trips on offer and was extremely pleased to see I could book everything directly with my diving, i.e camel trips and quad biking etc but ran out of time due to diving too much... again next time! 12 days diving with Octopus World Dahab Diving Center was truly an unforgettable experience! Keep up the great work guys and hopefully I'll see you again very soon!
| | | | | | |
| --- | --- | --- | --- | --- | --- |
| | | | | | Posted on 29/09/13 at 13:48 |
| | | | | | |
| --- | --- | --- | --- | --- | --- |
| Boat and equipment: | | | | | |
| Guiding and safety: | | | | | |
| Service: | | | | | |
Open Water and Advanced Open Water
I completer both my Open Water and my Advanced course with Octopus World and it was an experience I will never forget! The staff were really friendly and made me feel at ease straight away! My instructors, Ashraf and Mohsen were fantastic, really encouraging and so much fun to be around. The whole experience was wonderful and I would recommended it to everyone!
Report review as inappropriate
Diveboard aims (among many other things!) at helping divers choose their dive center when travelling abroad. Thus, reviews need to be relevant for your fellow divers from all over the world.
If you think a review should be removed, report it to us and we'll decide what to do with the review based on the rules below.
You may report a review if it breaks one or many of the following rules:
Must provide useful information for fellow divers
Must be based on first-hand experience (i.e. hearsay, rumors, ...)
Should be original (Same review submitted several times by different users are considered as spam)
Shop owners must not impersonate customers
Must not be racist, sexist, homophobic, sexually explicit, abusive or otherwise objectionable
Must not break the law or condone or encourage unlawful activity. This includes breach of copyright, defamation and contempt of court
Must not encourage activities which could endanger the safety or well-being of others
Must not advertise products or websites unrelated to the shop
Please note that Diveboard will never remove reviews because they are too good or not good enough.
Report review as inappropriate
Processing please wait
Review for Octopus World Dahab
You have dived with Octopus World Dahab? Leave a comment about your experience, it will help out your fellow divers who travel to this part of the world. Thanks!
Overall
You need to tell us what Overall opinion you have.
Please make up your mind wether you'd recommend this dive shop and try again.
I would recommend it
I would disrecommend it
What service did you mainly use?
You need to tell us what service you've used.
Please select one and try again.
Autonomous dive
Guide
Tank fill
Training
Snorkeling
Other
Would you like to say a few words? (optional - 50 characters minimum)
Could you give some more detail? (optional)
Review for Octopus World Dahab
Processing please wait
My shopping cart
Dive Shack USA - Catalina Island
Introductory Scuba Dive
Just on one day Over several days
On:
From: Until:
Discount code or voucher
Enter your discount code or voucher to receive a discount to your total order. Multiple vouchers cannot be applied.
Sub
$98.00
Discount
$10.00
Total
$88.00
About
The #1 place for everything scuba.
Discover destinations through divers' eyes & book your dives.
Mobile ready and fully featured with the best online logbook to share your explorations and feedbacks.